Foreign Ministry Spokesperson Hong Lei's Regular Press Conference on July 9, 2014
2014-07-09 22:06
Q: Over the last two days, Israeli military has launched a new round of operations, assaulting at least 50 targets in the Gaza strip, killing 27 people and injuring about 100. Hamas fired more than 100 rockets to southern Israel, Jerusalem, Tel Aviv, Haifa and other places. The Israeli Cabinet has approved the call-up of 40,000 reserve troops. What is China's comment on the escalation of Palestine-Israel conflict?
A: China is deeply concerned about the continued escalation of Palestine-Israel conflict. We believe that to resort to force and to counter violence with violence will not help resolve problems other than pile up more hatred. We urge relevant parties to bear in mind the broader picture of peace and the lives of the people, immediately realize a ceasefire, stick to the strategic choice of peace talks and strive for an early resumption of talks.
Q: Former Soviet Union Foreign Minister and Georgian ex-President Eduard Shevardnadze died of illness on July 7. What is China's comment on his contribution to China-Soviet Union and China-Georgia relations during his tenure?
A: Mr. Shevardnadze is a statesman and diplomat of great influence in former Soviet Union and Georgia. He had played an instrumental role in promoting the improvement of China-Soviet Union relations and the development of China-Georgia relations. China offers its deep condolences on the passing of Mr. Shevardnadze, and sincere sympathy to his families and the Georgian people.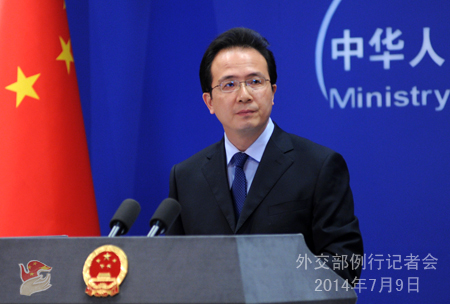 Q: Japan has lodged a protest with a Chinese local newspaper for carrying a map of Japan showing mushroom clouds over Hiroshima and Nagasaki. What is China's comment on the atomic bombs attacks against Japan in 1945?
A: The war of aggression waged by the Japanese militarists has brought grave sufferings not only to its Asian neighbors, but also to its own people. Recently, Japan keeps taking negative moves on historical issues and stirring up troubles. It also has made some major policy adjustments in military and security areas which are unprecedented. All these have raised great concerns from its Asian neighbors. We hope Japan can learn its lessons from history and follow the path of peaceful development so that the historical tragedy will not repeat itself in the future.
Q: The DPRK today fired two short-range missiles. What is China's comment on that?
A: We have noted relevant reports. We hope that under the current circumstances, all parties can make efforts to reduce tension and ensure peace and stability of the Korean Peninsula.